The Premium Styles add-on for Better Click To Tweet gives you the ability to restyle your Better Click To Tweet boxes in just a few clicks.
With no coding, you can go from this:

To this
As of Version 1.1, we've added an option with subtle CSS animation:
Better Click To Tweet with Premium Styles: now including optional CSS animation! Click To Tweet
Here are the other styles you can choose from currently, with more being added all the time (click images to see detail):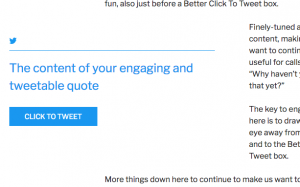 The add-on adds a new settings page as a sub-page of the Better Click To Tweet settings page, with a variety of styles (growing with each update!)
Note: your license gives you one year's access to support and updates.
Licenses do not affect functionality of the add-on code whatsoever.
Code updates (ranging from new styles added to security fixes and other enhancements) require an active license.